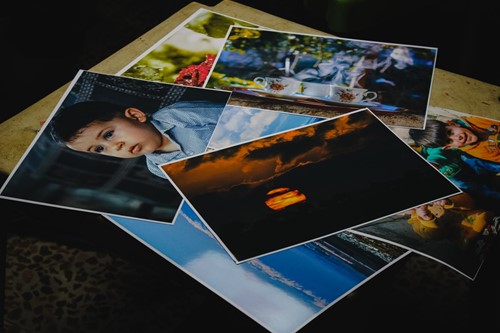 It's easier than ever to capture your favorite moments, as you likely have a camera on you at all times. However, despite the fact that many people today are taking more pictures than ever before, those images rarely make it to picture frames.
Those photographs represent some of your most precious moments, and they should be displayed with pride in your home. Don't be afraid to incorporate your favorite pictures into your DIY home decor.
3 Reasons to Use Your Personal Photos in Your Home Decor
Your personal photographs transform any generic DIY project into a work of art that showcases what is most important to you.

Your personal photographs will add a touch of warmth to your home and they also make for wonderful conversation pieces.
It is a good idea to display your personal photographs in your home as well as in digital storage to protect those memories.

5 DIY Projects That Include Photos

Fairy Light Photo Wall - In order to blend fanciful lighting with nostalgic memories, you can create a fairy light photo wall that would be perfect for any bedroom, den or home office display. To complete this project, you will want to order 12-16 of your favorite photographs in wallet-sized prints. Then, after you stretch a string of fairy lights out, attach the photographs in different spots on the string before hanging the lights on the wall.
Black and White Landscape Canvas - It's easy to transform your own photograph into a work of art. Edit one of your favorite landscape images and apply a black and white filter. Then, order it on a canvas that can be hung in any room of your home.
Window Pane Photo Art - This project uses old materials in order to create a unique and distinct picture frame for your home. Find an old window pane and paint it or finish it so that it matches your existing home decor. Then, print a large photograph out that you have taken - natural photographs or landscape images often work best - and adhere it behind the window pane. The finished product will allow you to feel like you are looking out of a window into the place that you photographed.
Wooden Photo Plaques - This project requires you to finish, stain or paint old pieces of wood that will serve as the base for the plaques. Once you have prepared the wood, you will want to decoupage your favorite snapshots onto the wood for an interesting photo display that can be hung on the wall.
Photo Magnets - Photo magnets are a simple way to brighten up your kitchen. You can use photographs of friends and family or from your most recent vacation, and create magnets out of them in order to display them in your home.

Photographs add an extra dose of personalization to any DIY project, allowing you to truly enjoy the process of creating something that is meant specifically for your home. Whether you want to display photos from days gone by or from the memories you made most recently, you will find that these projects are both fun to make and heartwarming to share with others who visit your home.